Review: Making it Big is Software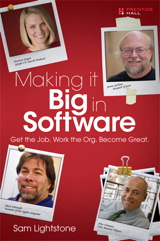 I'd like to first thank the team at InformIT for making books like Making it Big in Software. I love these titles!
Making it Big in Software is a great read, it is something I think that every software developer would have loved to have had when they were breaking into the software world. I know I would have loved to have had it.
Sam Lightstone has put together what could easily be called the blueprint to a successful career in software. He covers college, post-college pre-career, interviewing, resumes, fitting into the work environment, salary discussions, and more, much more.
The book is broken into three parts each covering an aspect of the flow of becoming big player in software, or at least a medium sized player in software.
The book is spattered with great interviews with some of the greatest minds of our time, including:
Marissa Mayer, Google VP, Search Products and User Experience
Linus Torvalds, Creator, Linux operating system kernel
Steve Wozniak, Inventor, Apple computer
John Schwarz, CEO, Business Objects
James Gosling, Inventor, Java programming language
Bjarne Stroustrup, Inventor, C++ programming language
Sam keeps the tone of the book very light, and I found it quite entertaining.
The chapters are broken into sections and each section is only a page or two long, which makes this a great short reader.
I have praised the writers of interview books before, and I will do it again, I think you can learn a lot from the old dogs (and some new dogs). I think that hearing the war stories and the victories and defeats are important in knowing where you are going, and where you are coming from. I love books like this one.
So again thanks to the team at InformIT and Sam Lightsone for taking the time to write Making it Big in Software.