Review: Super Scratch Programming Adventure!
[caption id="attachment_993" align="alignleft" width="213"]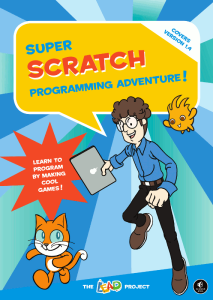 Cover: Super Scratch Programming Adventure[/caption]
The good folks at No Starch Press recently asked me to review Super Scratch Programming Adventure!, and I couldn't have been more happy to assist them, except the book is targeted at a much younger generation. So I sought out some helpers, my friend Clint Savage and his son Shaun.
Clint and Shaun are enthusiasts of technology and all things awesome (like Linux and programming). Shaun has had an interest in programming for some time, and Clint has wanted to help Shaun explore the art of programming, what a perfect opportunity. Here is Clint and Shaun's review of the book:
---
During my son's schooling, he is able to have a couple extra curricular activities. When Adam suggested a programming book for kids, I jumped at the chance to have my son try it out. I'm very interested in computing, programming and all things nerdy. I figured this would be a good opportunity to introduce programming to him in a fun and useful way.
Here is his take on the book:
When I got the scratch programming manual from my dad's friend, I didn't know what to expect. I opened the book to find fun, I was kind of surprised. Soon, I was learning all over the place, it was amazing. I loved writing the programs so that I save Scratch and Mitch.

I liked the lessons a lot, they just got better. The best lesson was lesson seven, I like mazes which made it fun. Also lesson nine,  the dark wizard fight was cool. The only bad thing was that sometimes it was very repetitive and a little stale.

I give it an overall good rating for the fun and learning. If you write another Scratch book, I would be interested in doing more. I sometimes still go back and do the lessons over. I hope you can create more fun game programming books.

– Shaun Savage
As you can see, he quite enjoyed the book and looks forward to more opportunities to learn to program. I hope to get him started on Python next. Thank you for this book, which provided such a good experience.
Thanks,
– Clint Savage
---
Lucky for Clint the folks at No Starch just happened to email me this morning with a book offer on Python for Kids, sometimes you just can't line the cards up better.
Thanks to Clint and Shaun for doing my work for me.